Invest in Finland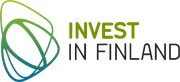 Finpro's Invest in Finland helps international companies to evaluate what opportunities Finland can offer for their business growth. We also provide the relevant information and guidance required to establish a business in Finland. The services are tailored to our customers' needs. As we are a government agency, they are free of charge.
Contact us to discuss how we can support your bio-based business in Finland!
Sectors in bioeconomy: Chemistry, Ecosystem services, Energy, Fish and waters, Food, Wood and forest
Services: Services and products for companies, Services for public sector, Consulting services, Public administration
Operating: international
Tags: investments, internationalization
Contact persons:
Jari Tielinen
Senior Advisor
+358 294 695 285
jari.tielinen@investinfinland.fi
Disclaimer: Please note that information included in this directory and any linked sites is supplied by the organisations themselves. Last updated May 27, 2016.