Bioeconomy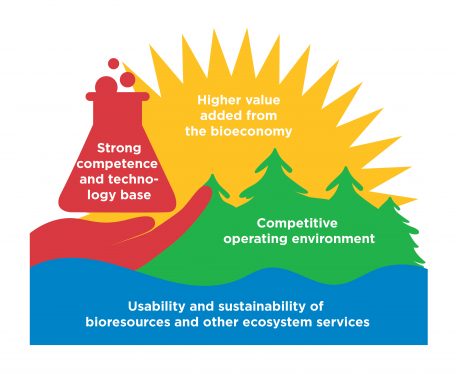 Bioeconomy Strategy 2022–2035 – Sustainably towards higher value added
Finland's Bioeconomy Strategy aims to double the value added of bioeconomy in an ecologically, socially and economically sustainable manner and to make Finland climate neutral by 2035.
Bioeconomy is an exceptionally important sector for Finland. In 2019, it generated a value added of EUR 26 billion, which corresponds to 13% of the value added generated in the national economy.
Bioeconomy is implemented in a resource-wise manner through the circular economy. The strategy strongly supports the green transition of Finland and the EU. In order to promote the wellbeing of society, attention is paid to the fair distribution of benefits and disadvantages of the bioeconomy.
Bioeconomy is based on production that makes use of renewable natural materials in a sustainable manner and develops and deploys related innovations and technologies. In Finland, services that utilise nature, such as nature tourism, are also part of the bioeconomy.
The strategy's measures are divided under four headings: 1) Higher value added from bioeconomy, 2) A strong knowledge and technology base, 3) A competitive operating environment and 4) Usability and sustainability of bioresources and other ecosystem services. The strategy also includes sector-specific measures.
Value added is sought by developing new raw materials, manufacturing methods, products and services, by increasing the value added and resource efficiency, and by utilising side streams and circular economy operating models. There are promising developments in sectors such as forestry, food and energy production, pharmaceutical, chemical and textile industries, water supply, fisheries, aquaculture, tourism services and the natural products sector.
The objectives of the Bioeconomy Strategy by 2035 are:
double the value added of bioeconomy
create competitive and innovative bioeconomy solutions to global problems
generate business that promotes renewal both to the domestic and international markets, which will bring wellbeing to Finland as a whole
increase the resource-wise use and recycling of materials and utilise side streams
reduce dependency on fossil fuels and other non-renewable raw materials
ensure ecological sustainability, social justice and the renewal capacity of renewable natural resources and to strengthen broad-based competence in the bioeconomy
improve and reform the technology base.
Download: The Finnish Bioeconomy Strategy 2022 (pdf)
Accessible pages, The Finnish Bioeconomy Strategy