Bio Era event tour builds a common future
News - Published 29.9.2016
The Bio Era event tour is the forest sector's joint 100th anniversary present for Finland, particularly for the young. A science centre exhibition on wheels – a truck that runs on biodiesel – forms the core of the nationwide tour.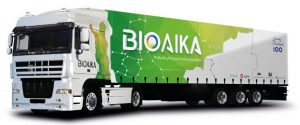 The Bio Era truck – a journey into our common future
The exhibition in the truck describes the opportunities and innovations associated with the bioeconomy, and more content will be generated during the tour. Learning by doing and through trial and error is a key element of the exhibition. When visitors can create visions and solutions for the future both themselves and together, the bio era will be one step closer. "Our national heritage is a key resource for Finland's competitiveness and success. Forests and water bodies provide work, a source of income, wealth, wellbeing and natural values," says Director General of Metsähallitus Pentti Hyttinen.
The truck and the side events provided on the theme highlight the bioeconomic strengths of the localities visited. The Finnish bioeconomy will be presented on a broad basis during the tour and scouts, among others, will be involved in drawing up the tour programme alongside forest owners and the forest industry.
"Bio Era is a vision, an invitation to everyone to join together in building a common future based on the sustainable use of natural resources. Everyone is welcome to join in this effort.  Contact the organisers of the Bio Era tour if you want to be involved, either as a partner in the tour or an event organiser, or if you would like the truck to visit your community or school," says Kristiina Vuopala, Manager, Corporate Relations at Metsähallitus.
The producers of the Bio Era truck are Metsähallitus Science Centre Pilke and Science Centre Tietomaa. The main funders are the Finnish Forest Foundation and Metsämiesten Säätiö Foundation. The event tour will be implemented in cooperation with forest sector actors. The specific target group of the tour of upper secondary school towns in Finland is young people aged 13 to 19.
Further information:
Pentti Hyttinen, Director General, Metsähallitus, pentti.hyttinen@metsa.fi, tel. +358 40 546 5227
Kristiina Vuopala, Manager, Corporate Relations, Metsähallitus, kristiina.vuopala@metsa.fi, tel. +358 40 729 8819
---