Bioeconomy in practise – from wood to wheels
Blog - Published 5.2.2015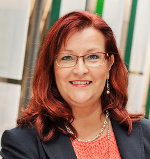 5 Feb 2015
A bus is waiting in the front of The Ministry of Employment and the Economy in Helsinki, Finland. A group of influential EU representatives  from Brussels are acquainting themselves with Finnish bioeconomy. UPM is hosting an excursion to see Finnish forestry in practice. The journey into the woods is about to start.
Already through the bus window it is obvious that Finland is a land of forests. In fact, a quarter of the global forests are located in Europe, especially in Scandinavia. Despite of the deforestation talk, the European Union forests have increased by 11 million hectares over the past 20 years.
We explore a wintery UPM forest in Taavetti, South-East of Finland. At the end of a narrow, nameless road harvesters are in full action and logs are loaded into a wood truck. A common sight in the Finnish forest draws attention. Top-level civil servants from various departments of the European Commission, as well as the EU ambassadors of leading bioeconomy countries dress in winter overalls to withstand the slight freeze. Questions arise from biodiversity to indirect land use change (ILUC).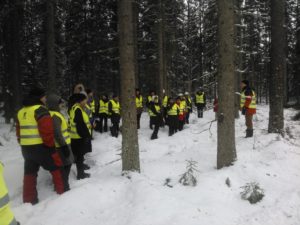 We wanted to show sustainable forestry and emphasize equal treatment of different parts of wood in sustainability criteria, despite of their end use. Brussels learns Finnish harvesting and how UPM has integrated global biodiversity programme into forest management. Timo Lehesvirta from UPM Environment stands in the middle of regenerated area and explains how certification of forests is an excellent way to promote and implement sustainable forestry. As a practical example Timo mentions how planting trees in another area justifies harvesting here, and results in no land use change (ILUC) effect on the national level. Another example demonstrates how by leaving decaying trees in the forests we create favourable conditions  for thousands of saproxylic species. "Even if it was dark and one meter of snow here in the forest during harvesting, the conservation of the species and water areas is ensured."
Natural interest arises for modern technology and huge harvesters, and one EU civil servant after another climbs into the harvester cabin. UPM forest manager introduces the Geographic Information System (GIS) where all essential data is stored, including information about existing statutory protection areas, habitats of high biodiversity and other sensitive areas. This ensures that the forests are managed in an economically, environmentally and socially sustainable way.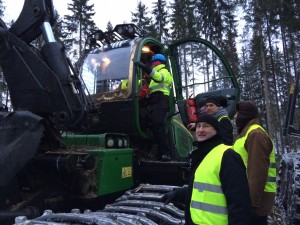 Forest visit t coupled with outdoor lunch and fireplace coffee is a memorable experience for foreigners. In their home countries – Belgium, France, Germany, Poland, Portugal, Holland, Denmark, France and Lithuania – forests and forestry methods are different. Finnish sustainable forestry and the balanced view in planning and implementing measures is impressing our guests.
Next destination is UPM Kaukas mill site and UPM's Lappeenranta Biorefinery, where commercial production of renewable diesel from crude tall oil started only two weeks ago. The visitors take a tour across the site to see pulp, paper, energy and sawn timber produced – utilising wood efficiently. A tank truck full of wood-based diesel is passing us on its way to the customer. Already 140 years ago wooden spools were manufactured at Kaukas mills. The leftover wood from spool production was used to make pulp. Today, the residues of the pulp production are used to produce renewable diesel, suitable for all diesel engines.
The bus stops at the site that looks like a small oil refinery. From the window of the spool factory opens a view to the whole biorefinery  – one of a kind. Crude tall oil, from the resin of wood, is refined into renewable diesel. Annual production capacity is 120 million litres. The novel biofuel, UPM BioVerno, reduces carbon dioxide emissions significantly without increasing harvesting or land use change.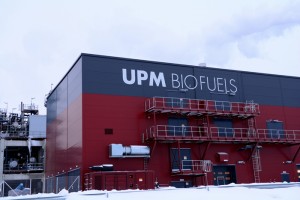 The visit ends at Kaukas Club House, where Kaukas mills were once managed from. Now, discussions of the European bioeconomy are taking place there. The purpose of the visit organized by The Ministry of Employment and the Economy was to present Finland as a leading bioeconomy country. UPM wanted to show how the wheels of bioeconomy are kept in motion – by driving cleaner traffic. The forest industry keeps changing but its wood remains. Today, it is Finnish  and European bioeconomy at its best.
Sari Mannonen, Sales & Marketing Director, UPM Biofuels
sari.mannonen(@)upm.com
See also: BioExcu in Storify
---