Composite, UPM ProFi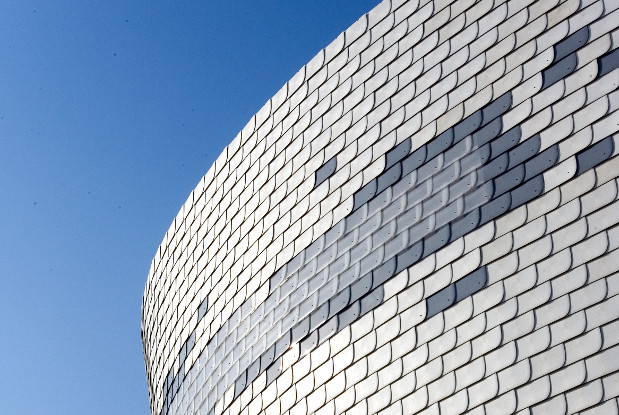 Case - Published 4.7.2014
The UPM ProFi composite was utilised at the Finnish pavilion (dubbed 'Giant's Kettle') at the Shanghai World Expo. The total area of the external cladding of the pavilion is 3,700 square metres. UPM produced by injection moulding some 25,000 shingles, which resembled fish scales, to cover the walls of the building. Some 20 tonnes of recovered label materials were used in the external cladding of the pavilion.
Composite is a combination of at least two materials which are not blended or merged together. In composite production, the aim is to combine the benefits of different materials while eliminating their disadvantages. The sum of the components is a material that provides enhanced quality in the sought properties. Biocomposites are composites which contain at least one bio-based composite material.
The first artificial composite was produced before modern times, when people discovered they could reinforce clay bricks used in construction by mixing straw with the clay. Wood can be seen as nature's own composite material. It combines cellulose fibres with lignins which hold the fibres together. On the other hand, wood and its different compounds are also used as raw materials in different types of industrial composites.
UPM ProFi is a composite made of plastic polymers and cellulose-based fibres. What makes it special is the fact that it features a new innovation in recycling. UPM wanted to find a reuse for surplus plastic and paper left over in its self-adhesive label manufacturing. The result of the research and development was the composite material UPM ProFi, over half of which is materials recovered from self-adhesive label production. The product is composed of wood-based cellulose fibres and plastic polymers. If these by-products of industrial manufacturing processes were not recovered for use in new products, they would be incinerated or destined for landfills.
UPM ProFi is durable and has good water resistance, which is why it keeps its appearance for many years, even in tough conditions. It contains hardly any lignin, the natural molecule of wood which causes wood to turn grey in sunlight. This means that the material keeps its colour and doesn't have to be painted or oiled. UPM ProFi is hard-wearing and will not splinter. Thanks to its properties, it suits especially well in outdoor construction applications, for example deckings.
UPM ProFi is a good example of the life cycle approach: materials which used to be incinerated or destined for landfills are now being used to manufacture a composite which offers improved technical performance. After their long lifespan, UPM ProFi products can be recycled or recovered for energy.
Text and photos are from the info cards in the presentation briefcase on the Finnish forest sector. The idea of a briefcase with various kinds of samples to present this diverse sector came from the young people themselves. The briefcase has been handed out at visits to upper secondary schools.
More information on the briefcase and visits: vilma.issakainen(@)smy.fi and anne.kettunen(@)forestindustries.fi.
---