FRANTSILA – Wellbeing and health from nature
Case - Published 3.12.2015
Frantsila Organic Herb Farm has been a pioneer of organic herb growing and natural health product manufacturing in Finland and the Nordic countries. Frantsila has also developed natural and alternative healing methods and schooling in Finland for over thirty years. Japan is one of Frantsila main export destinations.
The Frantsila Organic Herb Farm is located 40km northwest of Tampere, Finland. The area is environmentally clean with a high percentage of organic farms adjoining the Frantsila property. The farm has been in the same family for more than 300 years. The growing of herbs on the farm started in 1981 when Virpi Raipala-Cormier and James Cormier decided to establish a herbal centre on the family farm. Development of herbal medicines and other herbal products has been an ongoing process from the early days to the present. Nowadays the Frantsila brand consists of Frantsila Organic Herb Farm, Frantsila Well-Being Centre and a vegetarian café, Frantsila Kehäkukka.
Finnish pioneer in herb cultivating and natural cosmetics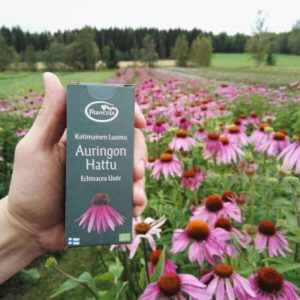 Frantsila has developed over 200 natural health products. Through years of growing trials the plants most suitable to the Finnish climate and those with the best medicinal quality were selected for growing and production. Frantsila as well as growing its own herbs works with other organic farmers and wild crafters to get a very broad range of Finnish medicinal and culinary plant materials.
Currently Frantsila uses over a hundred different plant species. The most notably species are nettle, yarrow, coneflower, plantain, calendula, mullein, self-heal and various mints. The harvesting of flowers is done by hand and other plants are picked either by hand or with a harvester. After harvesting the plants and flowers are dried or freshly extracted.
The company's main export destination is Japan, where the Frantsila School of Natural Health and Beauty also operates. In Japan, Frantsila sells the Midsummer Rose Natural Cosmetics series as well as dozens of other products, in which Frantsila's own herbs and flowers are used together with the best aromatherapy essential oils. For the Japan market, Frantsila is also producing goods with private label concept.
Organic growing and sustainability are Frantsila's main drivers
The philosophical base of Frantsila Organic Herb Farm is to do as much good as possible and to help uplift the overall physical, mental, and emotional health of the people with high quality Finnish organic herbal products and holistic health education. Frantsila has been among the first Finnish producers of natural cosmetics and it has been actively developing sustainable production methods for skin care products.
Environmental impact from production and agriculture are minimized and the Frantsila plantations have been under organic farming since 1977. The company also utilizes ecological solutions in packaging materials and other functions. Frantsila's products are produced in accordance with the European standards for natural cosmetics.
Guidance, training and wellbeing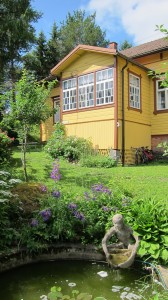 In the early years Frantsila developed an educational facility and educational programs to meet the thirst for knowledge of plants and healing. Frantsila School of Natural Healing was formed and it still continues schooling herbalists and other complementary medicine professionals. Frantsila Well-Being Centre arranges wellness holidays, holistic treatments and education for visitors and groups in old beautiful farm houses surrounded by herb fields and nature walks. A free access herbal exhibition garden and a vegetarian café and herbal shop were opened next to the main road on a lovely riverside location. Here lectures are given to groups on different herbal topics such as growing, plant medicine, herbal beauty and culinary use.
About the founders of Frantsila
Agronomists Virpi Raipala-Cormier and James Cormier established Frantsila to enhance public knowledge of herbs, organic farming and wellbeing. James is leading the production and Virpi is responsible for product development and education. Frantsila and its founders have won several awards for contributing to the welfare of the community.
Additional information:
Founder Virpi Raipala-Cormier
Email: frantsila.luomu@frantsila.com
Published in English Dec 10, 2015
---