From paperboard to packaging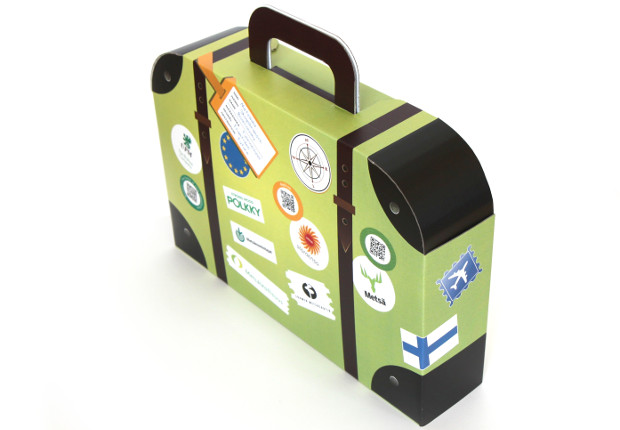 Case - Published 4.7.2014
Packaging is used everywhere from manufacturing industries to retail, households and everywhere in between. The global packaging market is growing rapidly. For example, the increase in online sales also increases the need for different packaging solutions, as products are being shipped around the world.
The recyclability and renewability of raw materials are both advantages of paper- and board-based packaging. In Finland, cardboard packaging is recycled so efficiently that up to and over 80 percent of all cardboard materials are being recycled.
Product packaging has two tasks: selling the product and protecting the contents. Good packaging describes the contents well; for example, it cannot be too flashy or too costly to produce compared to its contents. The overall image is a combination of materials, form, colours, typography, printing technique and the designer's imagination. The shape and design of packaging are assigned to designers and graphic artists who specialise in packaging design.
There are many things which have to be considered in the selection of packaging materials and shapes. Not only does the packaging have to be attractive to the consumer: it also has to be easy to open (and close, if necessary). Material consumption has to be minimised. The packaging must be functional and withstand the different stages of the transport and storage chain of the product. In addition, the packaging must be cost-efficient in storage, as transporting and storing air is a waste of money.
The presentation briefcase
This packaging has been manufactured at the DS Smith factory in Finland. The material is environmentally friendly and recyclable corrugated cardboard. Corrugated cardboard is composed of two fluted cardboard sheets. The fluting makes the material strong. The flute size varies depending on the type of cardboard. This portfolio is made from E flute, which is 1.6 mm high and has a flute density of approximately 300 flutes per metre. Each side of the corrugated layer has a liner. The liner used in this portfolio is the Kemiart Liner produced by Metsä Board. As the surface of the portfolio contains graphics, the liner must have good printing properties.
Text and photos are from the info cards in the presentation briefcase on the Finnish forest sector. The idea of a briefcase with various kinds of samples to present this diverse sector came from the young people themselves. The briefcase has been handed out at visits to upper secondary schools.
More information on the briefcase and visits: vilma.issakainen(@)smy.fi and anne.kettunen(@)forestindustries.fi.
---