HaliPuu brings the Finnish forest within everybody's reach
Case - Published 9.2.2016
A forest cannot be exported. Its ancient root systems reach deep underground, even when the trees themselves are young. Not everybody in the urban world has a chance to enjoy the serene, health promoting presence of a forest. That is why the Lappish company HaliPuu (Finnish for a hugging tree) is dedicated to bringing the Finnish forest experience within everybody's reach – regardless of where on the planet they are located!
The story of HaliPuu began in the forest, in Easter 2014. While enjoying coffee by a campfire, the Raekallio family was pondering on what to do with their forest. It was coming to an age where it would have to be harvested, but it just did not feel right. The place was dear to everybody, and despite being a commercial forest it had a special, friendly energy to it. The owner of the forest, grandpa Kaarle Raekallio had grown up alongside it, working in the forest all through his life. Wanting to give others a chance to enjoy it too, he came to the idea of adopting the trees as hugging trees. An idea so crazy and lovely that it just had to be realized. This was done by Kaarle's daughter Riitta Raekallio-Wunderink, who has a degree in business as well as affection for the Lappish forests.
A tree is like a pet
HaliPuu is a hybrid that joins a travel product with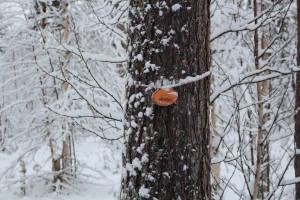 environmental values and an aspect of gaming. A tree is seen as a pet-like creature that you can form a personal relationship with. Trees can be viewed and adopted on the HaliPuu website, and then accessorized with locally produced organic decorations such as bird houses or mustaches made of moss. You can even have a portrait drawn of your tree. The HaliPuu website also offers a chance to leave your worries to the Worry-tree. The worries submitted on the site get printed out and burned, after which the ashes are scattered around a sturdy old pine. All of this is done live in the HaliPuu forest by the Raekallio family.
Adoption time for a tree is five years, during which you can visit it any time. The forest can also be reached virtually through Periscope broadcasts on Sundays. Tree adopters and other interested viewers get to sit by a campfire, have fun in the snow and watch the seasons change. The forest is explored through the eyes of the Raekallio family – which the tree adopters become a part of.
A tree can be adopted for your own enjoyment, as a present or as a unique business gift. In addition to the collection of accessories on HaliPuu.com, the tree can be adorned with a sign bearing a company logo for instance.
HaliPuu as a co-operative brand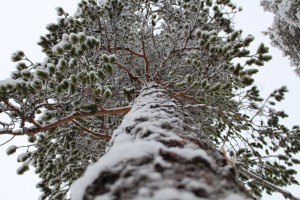 There are a number of tree adoption services around the world, mostly related to a conserved piece of forest or a park, or a consumer product such as olive oil. While the clean nature and Aurora Borealis of our Nordic region have been marketed abroad for decades, a tree adoption service has not really existed before – perhaps we have not seen the trees for the forest. HaliPuu, aimed primarily at the Asian market, gives people around the world a chance to have a connection to this unique environment even when they cannot be there in person.
HaliPuu wants to show that a tree does not need to be taken down in order to be transformed into a product. Each of the hugging trees has been individually selected, photographed and marked with a trademarked HaliPuu-logo. Both the forest and its trees are given character and turned into a brand.
The company promotes the forest as a playground and a platform for creativity. Its mission is to become an ambassador of tree adoption, and  "play forest" products. This can be achieved by expanding operations through co-operation with other Finnish forest owners.
HaliPuu has been active since November 2015, so it is still early to say how the business will develop. Although it is yet to reach the wide audiences, interest has been great all the way in Australia and the first trees have been adopted. One of the trees was given as a birthday present in the UK, while another was – surprisingly enough – adopted by an expat Finn. It is clear that the market does exist.
Tree adopting has great marketing potential for tourism, green industries as well as Finland's country brand. HaliPuu wants to be the catalyst for realizing this potential.
The writer Riitta Raekallio-Wunderink is one of HaliPuu's founders.
Additional information: info(ät)halipuu.com
Published  9.2.2016
---