Plywood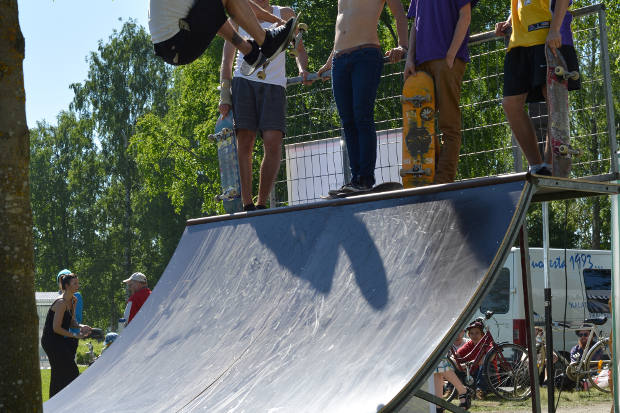 Case - Published 4.7.2014
Thanks to its strength and lightness, plywood is suitable for a variety of end-uses from houses to vehicles. Plywood can be used to make concrete moulds for construction sites, design furniture, or even skateboard ramps.
Plywood is constructed from thin sheets of wood glued together. The sheets are made by cutting thin veneer from logs. When the veneer sheets are placed on top of one another so that the direction of wood fibres in two adjoining sheets is at a 90-degree angle, the resulting plywood is stronger than a sheet of solid wood of the same thickness.
The veneer sheets can be cut from hardwood or softwood. Birch veneer is the strongest and most expensive veneer, while spruce veneer is lighter in weight but also strong thanks to its long fibres. Mixed plywood contains different wood materials. By utilising the lightness in weight of softwood and the beautiful light-coloured surface of birch, plywood can provide a combination of the best properties of two different wood species for construction and panelling applications.
Plywood is a versatile product that can be used in different applications from construction to transport equipment. The possibilities are endless, from cars and buses to cruise ships, flooring and roofing materials. Plywood is often used in applications requiring lightweight, strong and stable materials, such as gas tankers, concrete cast moulds and the flooring of transportation vehicles, for example lorry trailers and vans. One special product is aircraft plywood, which is composed of thin birch sheets that are only 0.15-0.5 mm thick. It is used in applications requiring very light materials, such as in the chassis of race cars, gliders and stunt planes, or ice hockey sticks.
Although plywood is the oldest industrially manufactured wood product, it is such an ingenious material that it is still a subject of product development and innovation. Different types of coating can be used to provide a hardwearing or anti-slippery surface. With its beautiful surface, birch plywood is often left uncoated and only given a light surface treatment when used in visible areas, such as ceilings, floors and furniture.
Another result of product development is the UPM Grada® plywood (bottom image). This material is based on a new technology, in which a readymade plywood sheet is heated, moulded and then cooled down.
The UPM Grada technology improves production efficiency and provides a shorter throughput time than older methods used in the moulding of components such as chair seats. UPM Grada is a safe material which does not contain any harmful compounds. At the end of its life cycle, the material can be recycled or incinerated safely.
Text and photos are from the info cards in the presentation briefcase on the Finnish forest sector. The idea of a briefcase with various kinds of samples to present this diverse sector came from the young people themselves. The briefcase has been handed out at visits to upper secondary schools.
More information on the briefcase and visits: vilma.issakainen(@)smy.fi and anne.kettunen(@)forestindustries.fi.
---