Wood shavings as animal bedding material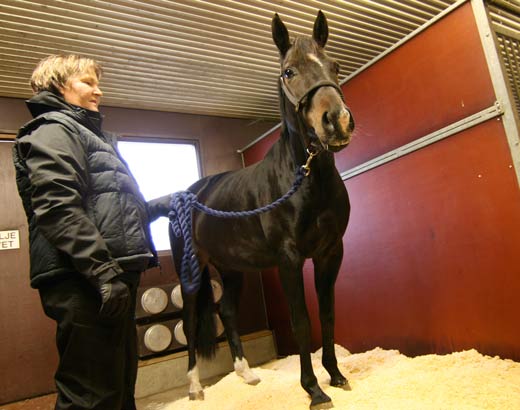 Case - Published 4.7.2014
Light-coloured wood shavings used in stalls provide horses with protection against cold floors and give the stables an airier and lighter appearance. Soft wood shavings are also gentler on horse hooves and cows. If Buttercup's hooves came with user instructions, they would say "use on soft surfaces only"!
Wood shavings are a great example how felled trees can be utilised without wasting anything. For example, the planing of construction timber materials produces wood shavings, which can be carefully screened to provide a home-grown, ecological bedding material for animals. Wood shavings for bedding are a 100% natural product!
Good wood shavings are soft and warm for use as bedding in animal shelters. They are a safe and consistent option, as the shavings go through a careful screening process. This means that the shavings won't contain sharp wood splinters which could harm the animal. Wood shavings for bedding are produced when wood such as artificially dried pine or spruce is planed. The resulting shavings are nearly dust-free and they can absorb twice their weight in liquid. For that reason, they are also an excellent bedding material for indoor pets. The shavings provide interest and activities for our furry friends when they are in their cages. As the respiratory systems of rabbits, guinea pigs and rodents are highly sensitive to dust and airborne impurities, fine dust is removed from the shavings using a three-tier screen at Pölkky Oy's factory.
For example horses, cows and many other smaller animals spend a lot of time indoors. That is why it is important to use only clean and consistent shavings as bedding material. Suomen Hevostietokeskus ry, an equine research facility which operates in conjunction with the University of Eastern Finland, has studied the hygienic quality of wood shavings used as bedding. High-quality shavings must not contain any microbes which could be harmful to the respiratory systems of humans or animals. They must also have a low spore count. This provides air quality which is healthy for both animals and us humans. Used shavings can be disposed of as dry waste or composted. The packaging materials can be either recycled or incinerated according to the manufacturer's instructions.
The product family of Pölkky Oy contains a wide selection of wood construction products for builders and renovators, from floor to ceiling. Several lorry loads of wood shavings are produced as a planing by-product each day. After screening and dust removal, the shavings are packaged in watertight shrink wraps.
Text and photos are from the info cards in the presentation briefcase on the Finnish forest sector. The idea of a briefcase with various kinds of samples to present this diverse sector came from the young people themselves. The briefcase has been handed out at visits to upper secondary schools.
More information on the briefcase and visits: vilma.issakainen(@)smy.fi and anne.kettunen(@)forestindustries.fi.
---