A durable wood-based alternative to disposable cutlery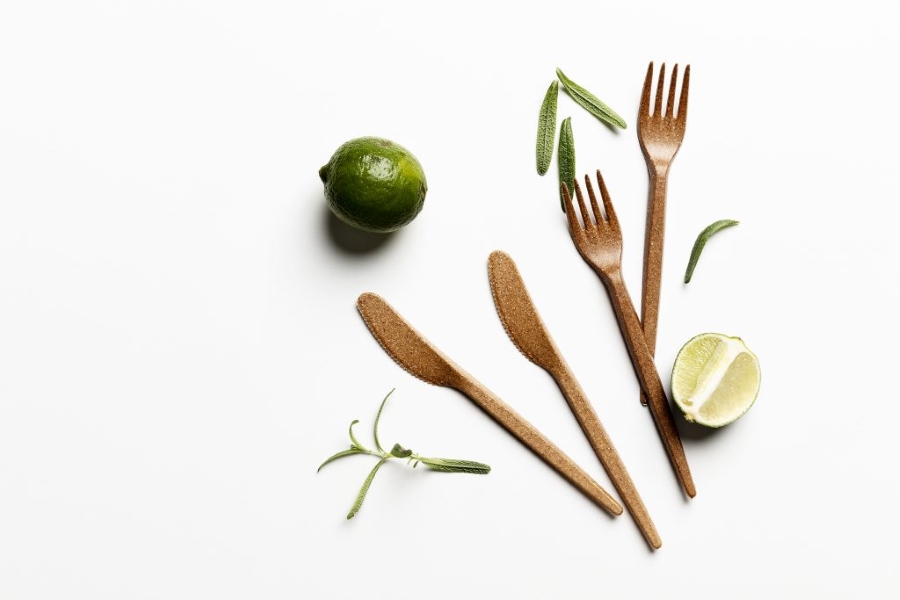 Case - Published 11.8.2020
Outokumpu-based Akvila Cutlery Oy contributes to solving the world's plastic problem with durable and reusable cutlery made from renewable raw materials. Nature Line cutlery uses a new type of biocomposite made from forestry residues. It is designed and manufactured dishwasher-safe and can be reused several times. 
Nature Line cutlery is made from UPM's Formi EcoAce biocomposite, which is based on nearly 100% renewable raw materials. EcoAce biocomposite is made of ISCC certified bio-polypropylene derived from forest industry side streams, softwood fibres and tall oil.
In the development of Nature Line cutlery, emphasis was placed on the product's user experience, durability, and visual appearance and recyclability. The properties of the raw material and product design allow the cutlery to be dishwasher-safe and temperatures above 100°C. They also give so-called clean mouthfeel without extra flavours that can occur for example with wooden cutlery.
The carbon footprint of Nature Line cutlery is more than 90% smaller than that of traditional plastic disposable cutlery. At the end of the life cycle, cutlery can be recycled among plastic waste or utilized for heat production.
From plastic to renewable raw materials
For decades, Akvila has been a manufacturer of traditional plastic products. The active development of sustainable reusable cutlery began in 2017. In 2019 Akvila launched the first version of bio-based and reusable cutlery. The next version was launched in early 2020, when the wood base of the raw material had been increased to almost 100%.
The EU directive promotes market change
The EU's single-use plastics directive will ban several plastic products by 2021. With reusable wood fibre-based cutlery, Akvila Cutlery Oy offers a solution for large existing and rapidly changing markets. The European disposable cutlery market is estimated at over €700 million and the global market size at several billion euros. The company's products are already widely sold in various European retail chains. Through distribution and retail partners, the products reach the market worldwide.
Additional information and contact:
Petteri Vilkman, Sales Director, Akvila Cutlery Oy
Phone +358 400 908 586, email petteri.vilkman@akvila.com
www.akvila.com
Akvila Cutlery Oy is a Finnish company founded in 2020 with its roots and business history dating back to 1920. The company manufactures reusable cutlery from renewable raw materials at its factory in Outokumpu, Finland.
Läs den här artikeln på svenska. / Lue tämä artikkeli suomeksi.
---
Agenda 2030
Akvila Cutlery's product development supports the UN Sustainable Development Goal 12 Towards responsible consumption.
---
---