New life for biowaste – resource-smart fabric made of straw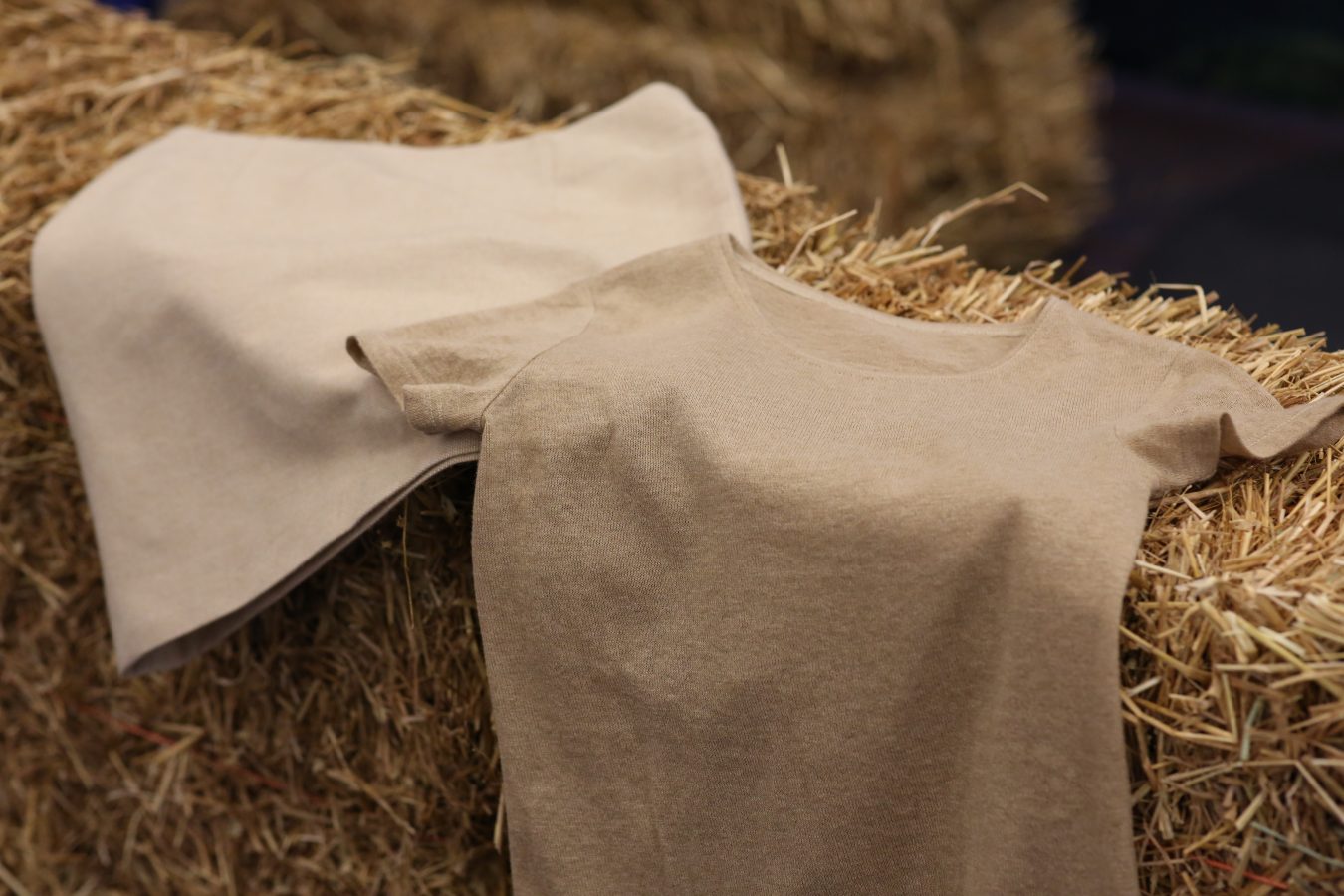 Case - Published 14.1.2020
The globally growing concern about climate change and finite resources has turned the attention to more sustainable manufacturing and consumption of products. Also Fortum has initiated several projects related to the circular economy and material efficiency with the aim of building options for significant new businesses in the future.
Fortum aims to be one of the leaders in resource efficiency as part of the change towards a cleaner world. The bioeconomy offers naturals options for the company to build significant new business that has existing synergies with the company's current expertise and, among other things, using biomass in the district heating business. From the global sustainability viewpoint, biomass is valuable raw material that has enormous potential in future applications.
One considerable option for material efficiency is to look into the better use of biomass and biowaste. Biowaste can include, among other things, wheat and rice straw from food production. Of these, rice straw is usually burned on the fields in India and other developing countries, for example. Instead of burning it, biowaste should be processed in a sustainable way in order to capture all usable fractions and maximize their value.
Environmentally friendly technology is the key
In addition to taking advantage of biowaste, all water and chemicals consumption related to production, as well as emissions and the recyclability of products are essential elements towards truly solving these global challenges.
Chempolis, Fortum's associate company, has developed a sustainable fractionation technology for processing biomass. Fractionation separates biomass into its three components: lignin, cellulose and hemicellulose. Material efficiency of the technology is state of the art as over 90% of biomass can be captured for further processing. Because the components are separated in the very beginning of the process, the end products are considerably purer than in the traditional cellulose and biofuel processes.
The raw material for the process can include straw, wood or bamboo, to name but a few, and the resulting components form fractionation can be further developed into products that replace fossil and other less sustainable raw materials in the textile, plastic, cosmetics and building industries, among other things.
Sustainable fabric through partnerships
For example the textile industry which uses vast amounts of natural resources and fossil raw material has started to actively look for more sustainable alternatives. Meanwhile, the global textile market is estimated to reach over 1,200 billion dollars by mid-2020.
Fortum has piloted various technologies and products with approximately 30 partners. They include Infinited Fiber Company Ltd. that manufactures fiber – using cellulose that has been recovered from recycled fiber – to replace environmentally harmful cotton in the textile industry, as well as Spinnova Oy that produces textile fiber mechanically without any harmful chemicals.
Among others, agro-residues such as straw have been used in the manufacturing of textile fiber. They have resulted in unique fabric also on a global scale. It can be used in numerous textile applications, which opens huge potential globally in the utilisation of biowaste, as well as introducing sustainable end-products to the market.
World's first wheat straw -based clothing
The cooperation of Fortum, Chempolis and Spinnova has given birth to the world's first wheat straw -based clothing prototype. The material of the clothing is unique also because, based on a life-cycle assessment (LCA), the environmental footprint of sourcing, processing and manufacturing the clothing is small compared to alternative raw materials and processes.
The clothing includes a knitted t-shirt, as well as a jacket and skirt made of a woven fabric on organic cotton warp. The straw, sourced from a farm in Finland, was first processed with the fractionation technology, after which it was transformed through microfibrillated cellulose (MFC) directly into fiber and subsequent thread, fabric and clothing.
Developing the fiber further with partners
Compared to the popular materials on the market, the qualities of the textile based on the fiber will resemble mainly cotton and viscose in terms of both use and care. Fortum will continue developing the textile fiber during 2020 together with its partners. The aim is to introduce a small number of products to consumers for testing already in a few years' time.
Contact details:
Heli Antila, Fortum, VP Biobased solutions
Tel.: +358 40 571 7188, email: heli.antila@fortum.com, Twitter: @AntilaHeli
Writer: Minna Robertson, Fortum
---
AGENDA 2030
This action advances the achievement of the following UN Sustainable Development Goals:
Goal 12 – Ensure sustainable consumption and production patterns
Goal 9 – Build resilient infrastructure, promote inclusive and sustainable industrialization and foster innovation
---
---