Bioeconomy – more than Circular Economy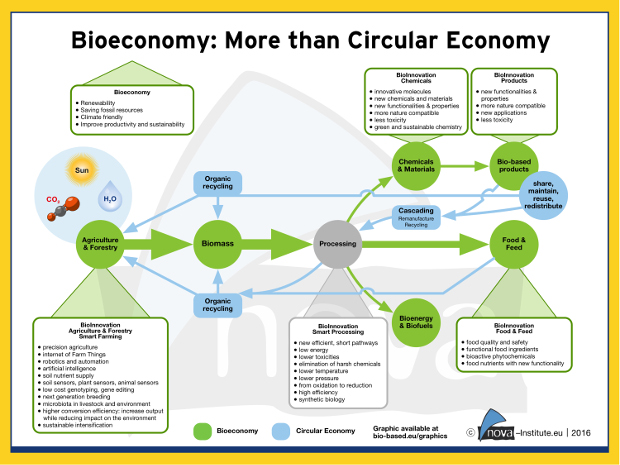 Case - Published 19.10.2016
Nova-Institute from Germany has contributed to the debate on Bio-based and Circular Economy with topical graphic that illustrates how the Bioeconomy and Circular Economy are related.
The Nova-Institute's picture (full-size) shows that Bio-based Economy is more than Circular Economy. Bio-based Economy introduces new chemicals, building-blocks and polymers with new functionalities. It enables the development of new process technologies such as industrial biotechnology and it delivers solutions for Green and Sustainable Chemistry. It is supposed to help mitigating climate change through the substitution of petrochemicals by materials with lower GHG emissions. It could bring new business opportunities, investment and employment to rural areas, foster regional development and support SMEs. And finally, the complete utilization of biomass could be optimized by new biorefinery concepts.
The text boxes highlights the advantages of Bio-based Economy in detail and shows that these go far beyond the concept of Circular Economy. Bio-based streams are part of the Circular Economy, but the Bio-based Economy itself goes far beyond the concept of Circular Economy.
Find out more.
Published Oct 19, 2016
---