Making of Tomorrow: Sustainability from Renewable Chemicals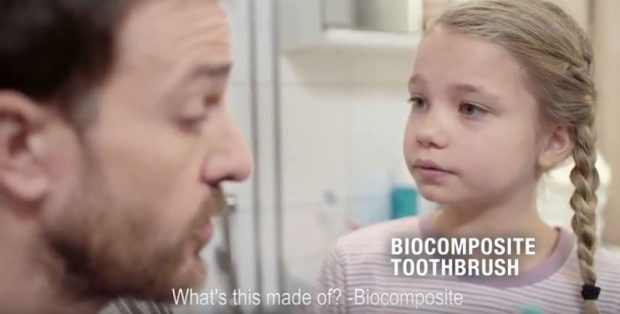 Video - Published 30.3.2017
In the decades to come, bio-based materials will be standard components of packaging and consumer products. Monomer production from non-food and waste streams or directly from syngas, CO2 or methane (C1 resources) is very likely to spread. We will transition to a zero-waste society that reuses materials over and over again. Atmospheric CO2 will no longer be a threat to the planet, but rather a valuable resource that is captured, stored and utilized to manufacture chemicals, energy products and materials.
Access the future Bioeconomy and find out more from Making of Tomorrow -videos by VTT Technical Research Centre of Finland.
VIDEO: What's a hybrid sausage and a wood-based textile? The impacts of bioeconomy and new innovations are explored through conversations between a scientist and his daughter. In this video they are barbecuing hybrid sausages inside bioplastic packaging made out of nanocellulose, on a campfire. Even their clothes are recycled or wood-based.
VIDEO: Does that mean that there is plastic in humans? It is time to brush your teeth with biogradable toothpaste and a toothbrush made from broken toys and newspapers.
VIDEO: How to Get More Value From Lignocellulose? Research Professor Kristiina Kruus from VTT will discuss how to replace fossil energy resources with renewables and how to use renewable biomass as part of the new bioeconomy.
VIDEO: Future Biorefineries Maximising the Value of Product Streams. Research Professor Juha Lehtonen from VTT talks about the possibilities of integrating the production of biomass-based chemicals, fuels, and materials.  Topics are biomass, the process of refining biomass into value-added products, and the biomass-based chemicals and fuels with the most potential.
VIDEO: Engineering Nature in the Contained Environment – A New Wave of Biotechnology. Research Professor Merja Penttilä, an expert in Biotechnology from VTT, the Technical Research Centre of Finland explains how microbes can be used to produce many chemicals and materials in a sustainable way.
VIDEO: How Toothpaste Impacts Our Living Environment? Synthetic microparticles can be found, e.g. in car tyres, textiles and also in certain types of toothpaste. VTT's principal investigator David Sandquist explains why we should care about this and why it is important to start adopting more environmentally friendly options.
VIDEO: How to Create Diapers from CO2? Diaper production is a six-billion-dollar market using fossil resources as a raw material. VTT's principal researcher Juha-Pekka Pitkänen explains how it is possible to make their production more sustainable by harnessing microbes using CO2.
VIDEO: Relooping fashion – Closed-loop textile recycling. Old, worn-out cotton clothing is dissolved and turned into new fibres for textile industry by using a cellulose dissolution technique developed by VTT.
***
This article is part of Making of Tomorrow campaign by VTT Technical Research Centre of Finland. The campaign shows how the bioeconomy will become an integral part of our everyday lives in the areas of energy, chemicals, materials and food. Making of Tomorrow highlights the bioeconomy with webinars, interviews and videos.
Find Making of Tomorrow materials in Bioeconomy.fi.
***
Published on March 30, 2017.
---