Making of Tomorrow: Wellbeing from Food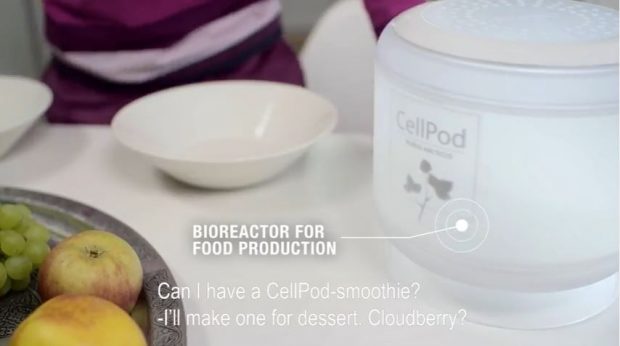 Video - Published 30.3.2017
In the years to come, corporate social and environmental responsibility will be taken for granted —especially when it comes to food. In order to feed a growing population, we need to be resource-efficient. Minimal processing, minimal waste, and healthy food will save on both costs and resources. New, high-value plant protein sources will promote sustainability while adding to the bottom line. Personalized solutions and services will strengthen the role of food in the manifesting of values, as well as in supporting wellness and vitality.
Access the future Bioeconomy and find out more from Making of Tomorrow -videos by VTT Technical Research Centre of Finland.
VIDEO: 3D printed china set and a bioreactor in our own kitchen. In this VTT video series the impacts of bioeconomy and new innovations are explored through conversations between a scientist and his daughter. In part 1 a meal is served: on 3D printed, bio-based plates. For dessert, a CellPod-smoothie made with cloudberries.
VIDEO: What are the packages made of? In part 2 a grocery store is full of bio-based packages. And the packages are smart too: they can tell us how fresh the product is.
VIDEO: How to Grow Plants Without Soil at Home? Some of the most interesting plants cannot be cultivated in fields. VTT's research scientist Lauri Reuter tells us how on earth it is possible to grow those plants – even at home.
VIDEO: How to Feed Another One Billion People More with the Current Cereal Chain? VTT's research team leader Emilia Nordlund explains why the development of technologies for upgrading food industry side streams to main streams is worthwhile.
VIDEO: Revolution in the Food Supply Chain. Research Professor Kaisa Poutanen from VTT, the Technical Research Centre of Finland talks about the revolution taking place in the food supply chain – what is changing in the way our food is produced and delivered to the consumer.
Read also these articles:
The Protein Bar of the Future Will Be Made From Food Industry Side Streams
Food Delivery Ecosystems: An agile ecosystem saves raw materials and generates less waste, as the product is only made to order to meet a consumer need.
***
This article is part of Making of Tomorrow campaign by VTT Technical Research Centre of Finland. The campaign shows how the bioeconomy will become an integral part of our everyday lives in the areas of energy, chemicals, materials and food. Making of Tomorrow highlights the bioeconomy with webinars, interviews and videos.
Find other Making of Tomorrow materials in Bioeconomy.fi 
***
Published on March 30, 2017
---