PAPTIC – A novel sustainable fiber material to substitute plastics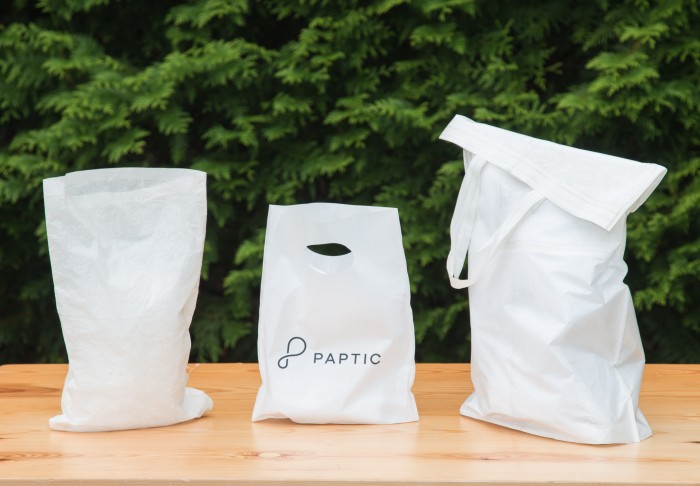 Case - Published 2.11.2015
The era of plastics has lasted for several decades, creating a remarkable stress to the environment. Reducing the use of plastic is a topical global challenge. A Finnish company, Paptic Ltd, has patented a technology that enables the manufacturing of an innovative fiber product with plastic-like properties.
Motivated by the millions of tons of plastic debris in the oceans Paptic's mission is to replace plastic with wood fiber material. Especially in short life span plastic products, such as carrier bags, new solutions are needed. Paptic offers its customers a sustainable option for replacing the plastic bags with renewable and recyclable PAPTIC bags.
PAPTIC is a novel wood fiber based material, combining the recyclability and renewability of paper with the functionality of plastics. It is a versatile option for replacement of plastics in several consumer applications, such as carrier bags and flexible packaging. The company uses a new technology platform developed at VTT Technical Research Centre of Finland, based on long-term research in fiber products and processes.
Recyclable and renewable material
PAPTIC is a wood-based and recyclable material challenging plastic films in many applications. PAPTIC has plastic-like qualities such as resilience, stretch, water resistance and due to its heat sealability, it can be converted similarly to plastic films.
The end-use specific product features are tailored by using wood fibers in combination with plastic materials.  Today PAPTIC consists 70% of wood fibre and the aim is to develop a 100% bio-based PAPTIC.
The manufacturing of PAPTIC product starts on a small scale in the autumn of 2015 at the KCL pilot plant in Espoo. PAPTIC material will be produced at an industrial level with paper machines equipped with PAPTIC technology. The aim is to start the industrial production and sales of PAPTIC material in 2016.
The use of plastic bags is coming to an end
The image of plastics is spoiled, causing the growing number of consumers, brand owners and retailers to seek for alternatives. The most manifested plastic replacement target of many nations (e.g. California, EU, China) has been the banning the use of plastic bags. This creates a huge market for sustainable materials. The retailers of durable goods and the growing number of sustainable brand owners are Paptic's main target group.
Paptic Ltd was established in April 2015 as a spin-off from VTT Technical Research Centre of Finland. At the same month the company raised a seed investment of EUR 1.1 million euros.
Additional information:
Esa Torniainen, co-founder and business development director
tel. + 358 (0)50 598 7668
email: esa.torniainen(@)paptic.fi
www.paptic.fi
Published 2 Nov 2015
---