What can Finland learn from the success story of Norwegian fish farming?
Blog - Published 17.12.2018
The Norwegian coast is ideal for salmon farming. The sea is just the right cool temperature for salmon year-round, and the tides keep the waters in the fjords clean. Over just a few decades, salmon farming has become a cornerstone of the Norwegian economy, alongside oil production. The Norwegian salmon industry is a success story that delights consumers around the world.
Norwegian economist Ragnar Tveterås has investigated what's behind this success story. The production volume would not be nearly as high if salmon weren't suitably priced for consumption as an everyday food. According to Tveterås, the affordability of farmed salmon is the result of numerous important innovations.
It all started with the domestication of wild salmon
Salmon farming began with the domestication of wild salmon through selective breeding programmes. Thanks to vaccinations, the fish grow more quickly and fewer antibiotics are needed to treat diseases. Salmon feed has also developed at a dizzying pace. In the net cages, a kilogramme of feed pellets becomes a kilogramme of salmon or rainbow trout with fewer environmental effects than two decades ago.
But even in a success story, things don't always go swimmingly. Norway's wild salmon stocks are threatened by the salmon louse, a two-centimetre-long parasite that lives on salmon skin. Various measures are taken to repel the lice, including medication, hot water and louse-eating fish. Because of the salmon louse, the cost of producing Norwegian salmon has begun to increase, because repelling the lice is expensive and also slows down the growth of the salmon.
The challenges caused by the salmon louse also affect Finnish rainbow trout producers, as they need to adapt to the world market price of salmon. The cheap, small Norwegian salmon currently found in Finnish stores may be fish whose growth has been stunted due to salmon lice and therefore cannot be sold on all markets.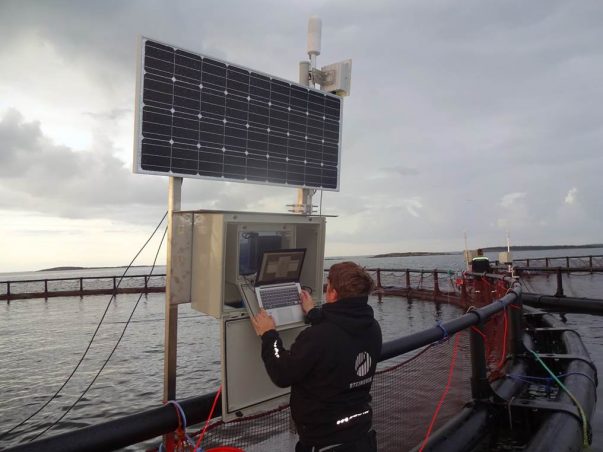 Recirculating aquaculture is still evolving
In order to rectify the situation, the fish industry has set its sights on innovation. The solution may lie in recirculating aquaculture, a new type of marine tank or enclosure, a biological repellent – or even a lice-zapping laser, which is currently under development. This is not the first time Norway has made major investments in experimenting with innovation. For example, Norway has spent a massive amount of money on developing cod and Atlantic halibut farming. Despite the sizeable efforts, these have not developed into the same kind of success story as salmon farming. Identifying innovations to resolve the current situation is made easier thanks to thorough background work and calculations of the profitability of different production methods in different scenarios.
The Finnish fishing industry has previously benefited from Norwegian vaccine and feed innovations, for example. Moving forward, too, we will be able to apply suitable technologies and practices developed in Norway. The production of young salmon is rapidly moving towards recirculating aquaculture, which acts as a driver for developing recirculating aquaculture at a large scale. Norway is also working on developing aquaculture technologies that are more enclosed than net cages. The farming conditions in Finland differ somewhat from those in Norway, which means that not all Norwegian innovations are suitable for Finland.
From research to production
Finnish research aims to identify those research topics that will best benefit the industry and eliminate those that would not be wise investments for the conditions in Finland. For this reason, we in Finland need to pay attention to international developments, like the example from Norway, and remain in close contact with Finnish industry operators.
The best way to promote Finnish aquaculture at the moment is to use research to identify locations where even larger-scale production will not cause harm to the environment. The Finnish Environment Institute, the Forest and Park Service, the Natural Resources Institute Finland and fish farmers are currently engaging in this kind of cooperation.
In recirculation aquaculture, the cornerstones of profitability are a consistent, high usage rate and top quality of the final product. The way to achieve these is by focusing enough on complex water treatment at recirculation aquaculture facilities. The aquaculture innovation programme has studied the use of oxidising compounds to improve water quality at the Natural Resources Institute's recirculating aquaculture experimentation and learning environment in Laukaa. The positive results obtained at a small scale have then been applied to full-scale commercial farming at the Finnforel fish farm in Varkaus as part of a joint project of the Universities of Jyväskylä and Helsinki. This time, the path from research to production is a very straight one.
Read more about the blue bioeconomy and aquaculture on the Natural Resources Institute Finland website.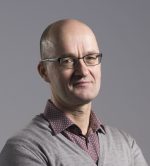 Writer Jouni Vielma works in Jyväskylä as a Principle Scientist focused on recirculation aquaculture systems, nutrition and feed development for aquaculture and the environmental load of aquaculture. He is also Research Manager of the Natural Resources Institute's Blue Bioeconomy programme. Jouni likes to spend time alone at the lake and with others in the football stands.
Blue bioeconomy blog series in Bioeconomy.fi.
Published (in Finnish) September 25, 2018.
---