BLOOM gives a fresh boost to bioeconomy communication in Europe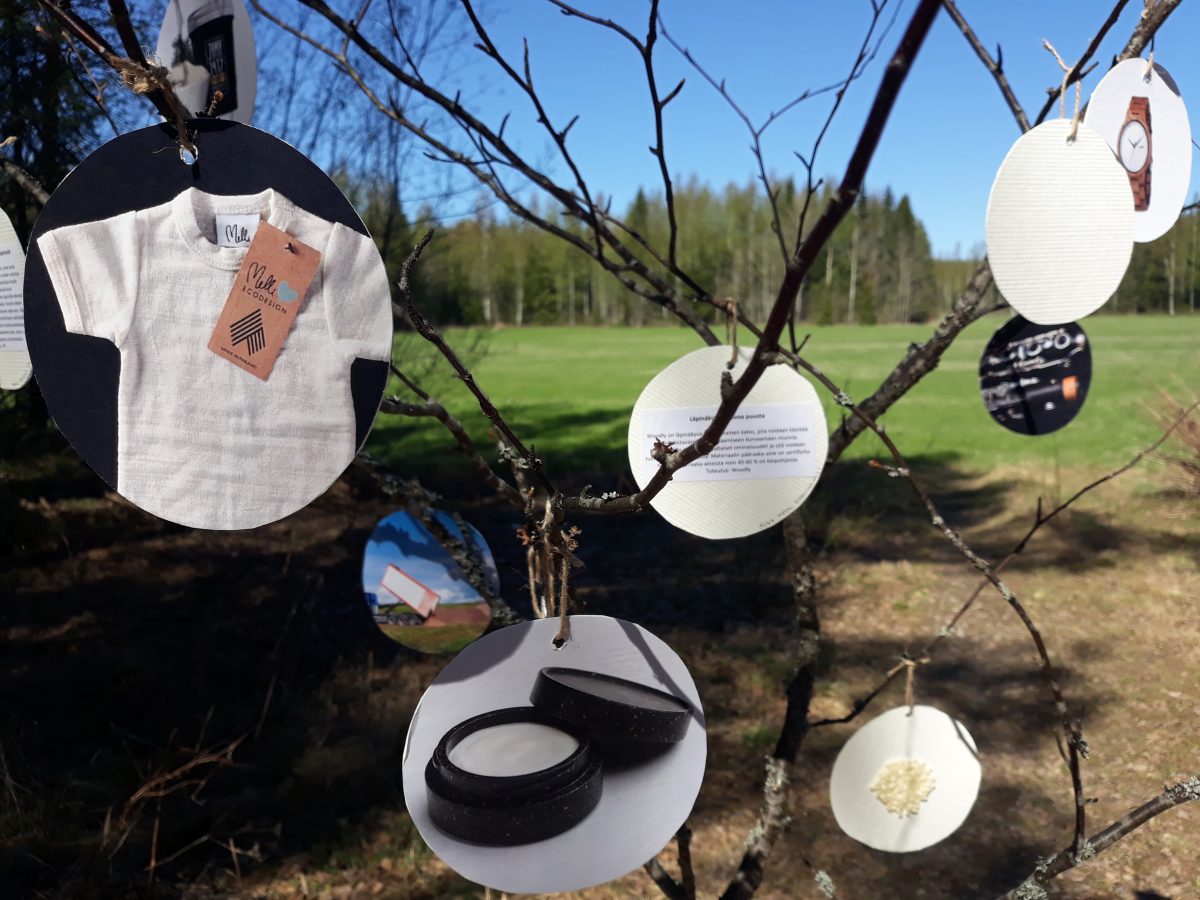 Blog - Published 16.8.2019
Bioeconomy, and more specifically circular bioeconomy, is a hot topic in Europe at the moment as heard in the European Bioeconomy Scene 2019 on the 9th of July.
We need fast actions globally to meet the Paris agreement goals. In order to achieve them, we know that people have to change their consumption habits and they have to do it in a more sustainable manner. One way of achieving this is by raising the awareness of the general public about the environmental impacts of their lifestyle and the products they buy.
But, even though there's loads of information available, the concept of bioeconomy and its potential in tackling global sustainability challenges are still rather unfamiliar for many within the EU. This demands of communicating bioeconomy in a clear, straight forward and understandable way, in order to reach out to a wider public and raise their awareness about its future possibilities and role in reaching the UN Sustainable Development Goals.
Co-creation and stakeholder involvement
The European BLOOM project was launched to tackle these issues. In the project, five regional hubs across the EU have been established to engage different stakeholder groups to co-create ideas on how to communicate bioeconomy with the general public. The different hubs throughout the Europe specialize in different aspects and focus areas.
The Nordic hub  consists of JAMK University of Applied Sciences in Jyväskylä, Finland together with Vetenskap & Allmänhet, VA (Public & Science) in Sweden.
In the BLOOM Nordic hub, our focus is to raise awareness about forest bioeconomy and wood-based products and materials. When discussed with our stakeholders, we have noticed that people know surprisingly little about the different possibilities of wood and forestry and its role in tackling today's global problems.
The project aim is to implement the European Bioeconomy Strategy, but it also supports the UN Sustainable Development Goals. The connection between bioeconomy and the Sustainable Development Goals is one of the main messages in the communication we want to do.
Dialogue and targeted communication
After organizing several workshops and collaborating with our stakeholders in both Finland and Sweden, we in the Nordic hub learned that the most important thing is to encourage the public to think critically by giving them enough information and creating space for discussion. Thus, they could observe the impacts of their own daily decisions from different perspectives. The solutions are hardly ever black or white – especially when it comes to bioeconomy and all its perspectives of sustainability.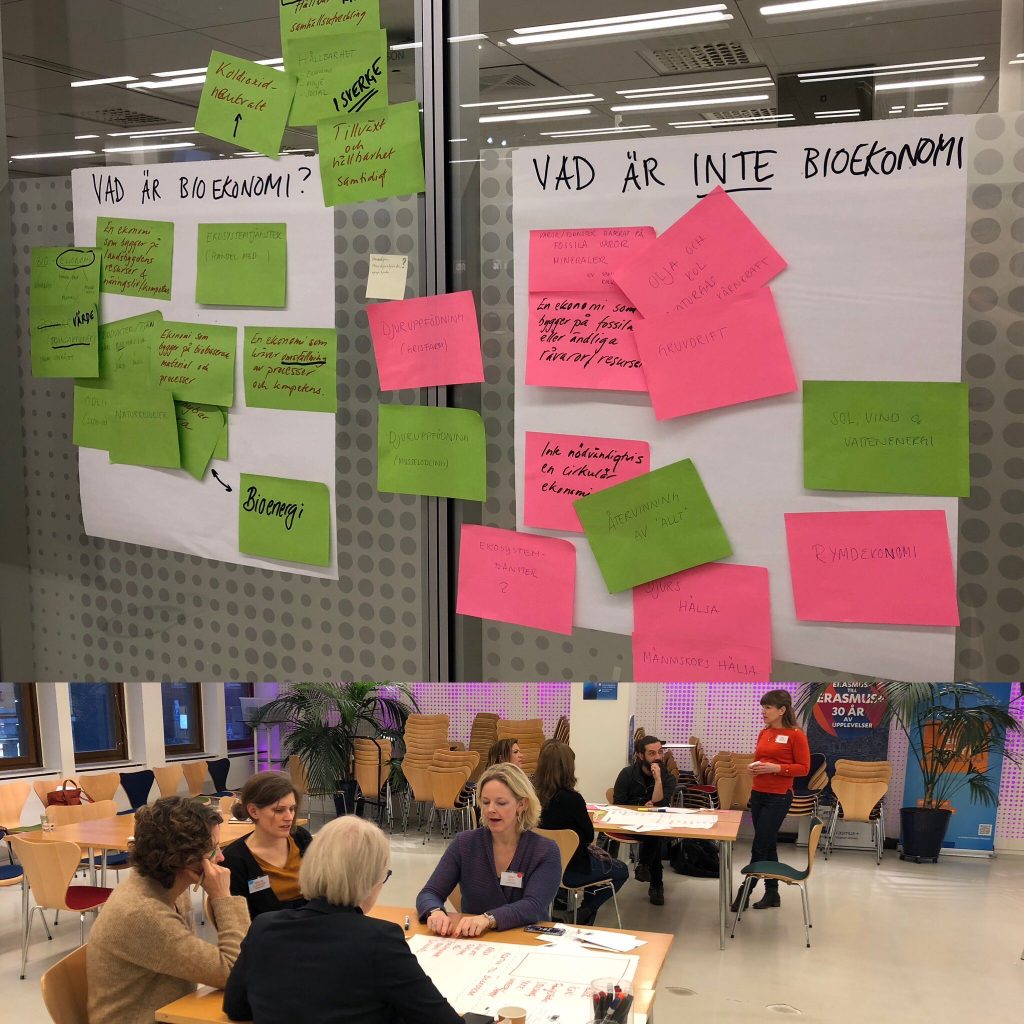 From our work in the workshops, most stakeholders agreed that young people and especially young women are very concerned about the state of the environment thus wanting to act in more sustainable ways. The future lies within our youth and that is why we have chosen them as our target group in the Nordic hub.
The information about products and materials that is available is often dispersed and sometimes even misleading or overlapping with opposite information. Sustainability and bioeconomy has a tendency to be just words in the marketing campaigns and rarely in the form of evidence-based information. It is difficult for anyone to know how to really make sustainable decisions and that creates uncertainty and confusion among the consumers. This is what we must try to avoid, as was pointed out by one of the key notes at the European Bioeconomy Scene 2019 in Helsinki, Christine Lang, the Chair of German Bioeconomy Council.
It is important to share science-based information about bio-based products in a neutral way and to communicate with clear message about bioeconomy and its overall role for the future.
We know what we need to do – let's communicate!
If you want to reach out to the youth, think like the youth! It's not that we wouldn't have great ideas on how to communicate bioeconomy to the youth, but to be honest, they really know it best! Thus, we need to listen and make dialogue in collaboration with local young people to create ideas together with them about how, where and when to communicate and what kind of information is needed. If the communication isn´t interesting for them and important for their daily lives, they are not going to listen.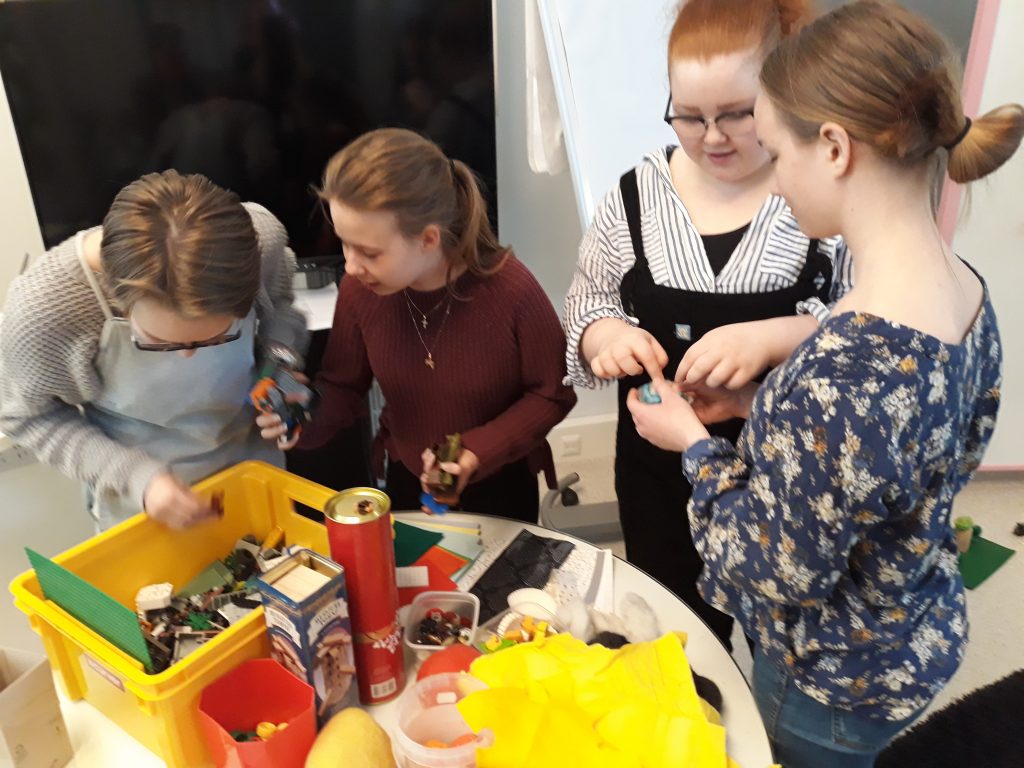 In Finland, one of the stakeholders in the workshops was the Youth Parliament of Jyväskylä and in the co-creation workshop, many great ideas were developed. Next step in the project is to further develop the ideas on how to engage influencers the young people listen to, so they can spread the word about a more sustainable, bio-based lifestyle.
In Sweden, a first outreach event after the co-creation workshops has been taking place. An information point with an exhibition and science cafés about the forest and its role in the future has been arranged during the annual Järvaveckan in the suburbs of Stockholm. About 14 000 local citizens and especially young people could make dialogue with a researcher, an agricultural student, a documentary filmmaker, a teacher and an institutional research center about their view on bioeconomy.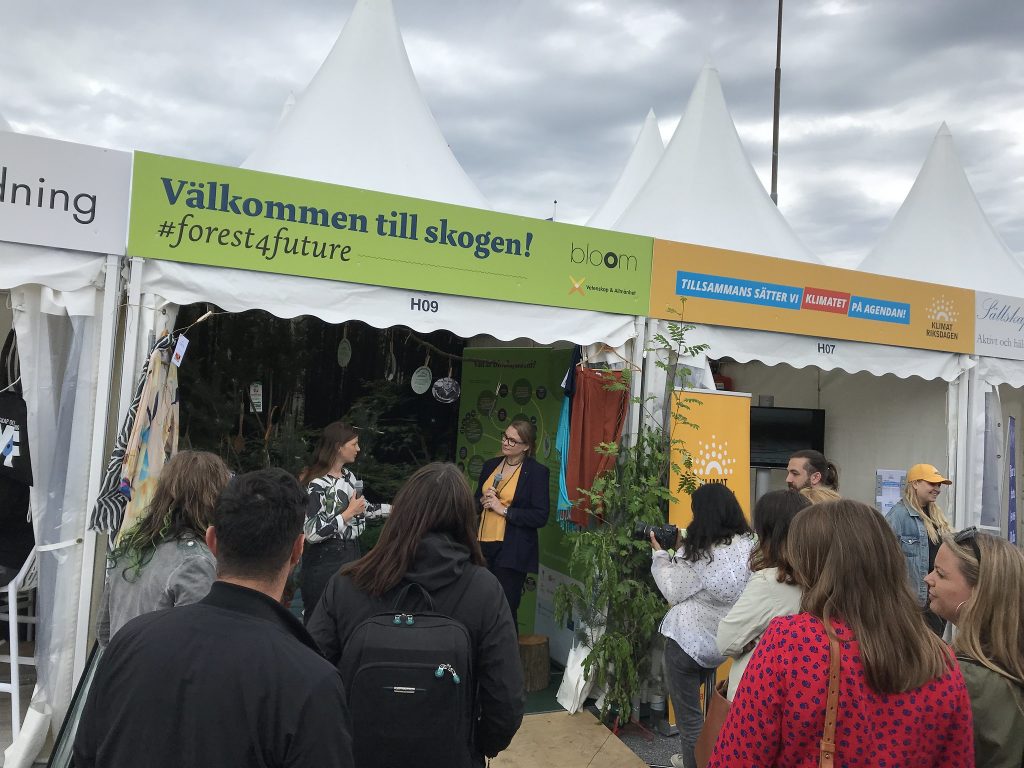 The Nordic Bloom hub has a lot of ideas to further engage the public in activities the coming two years, from science theatres about bioeconomy to fashion shows about sustainable clothing.
And as we have learned, there really isn't anything you can't do as part of the circular bioeconomy, is there? Only the sky (and the project budget) is the limit! So, sit back, let your mind fly for a while and give us your own idea on how to communicate with young people and let's talk bioeconomy together!
­­­­­
Get involved! Welcome to be a part of our bioeconomy hub. The coming events this year in the BLOOM Nordic hub are:
Get more information about the project or if you want to dive into the discussion zone, visit bloom-bioeconomy.eu
The authors Aino Voutilainen and Lotta Tomasson are coordinating the Nordic hub activities of the Bloom project. Project specialist Aino Voutilainen works in the Bioeconomy Institute of JAMK University of Applied Sciences. She works with bioeconomy and circular economy issues within the BLOOM and CircularEconomyUAS –projects. The Science communicator Lotta Tomasson is Communication Strategist and Senior project manager at the independent Swedish non-profit membership organisation Vetenskap & Allmänhet, VA (Public & Science). VA works to promote dialogue and openness between researchers and the public.
Contact information
Aino Voutilainen: aino.voutilainen@jamk.fi, +358 40 186 7549, Twitter: @voutilaisenaino
Lotta Tomasson: Lotta@v-a.se, +46 707289720, Twitter: @vetenskapoallm
The BLOOM project (Boosting European citizens knowLedge and awareness of BiOeconOMy research and innovation) is a EU Horizon 2020 funded project, which aims at bringing together partners from across Europe to debate, communicate, and engage the public in the potential of bioeconomy. The project involves 12 partners in eight European countries and it is coordinated by the Center for Social Innovation in Wien. The actions in the BLOOM Nordic hub is coordinated by JAMK University of Applied Sciences in Finland together with VA, Public & Science in Sweden.
Links for further information:
www.bloom-bioeconomy.eu
www.jamk.fi/bloom
www.v-a.se/english-portal/projects/bloom/
---

AGENDA 2030 
The change in peoples' attitudes and consumption habits are necessary in transition into more sustainable societies. This can be achieved with collaboration across the borders and by raising peoples' awareness about bio-based products and materials. Thus, the project meets up with the United Nations' Sustainable Development Goals of responsible consumption and production (SDG 12), climate action (SDG 13) and partnership for the goals (SDG 17). Circular Bioeconomy itself is one key player to achieve several more of the goals such as Zero hunger (SDG 2), Affordable and clean energy (SDG 7), Decent work and economic growth (SDG 8), Industry, innovation and infrastructure (SDG 9), Life below water (SDG 14) and Life on land (SDG 15).
---
---