Life saving drug detection with Nanocellulose – check out the video!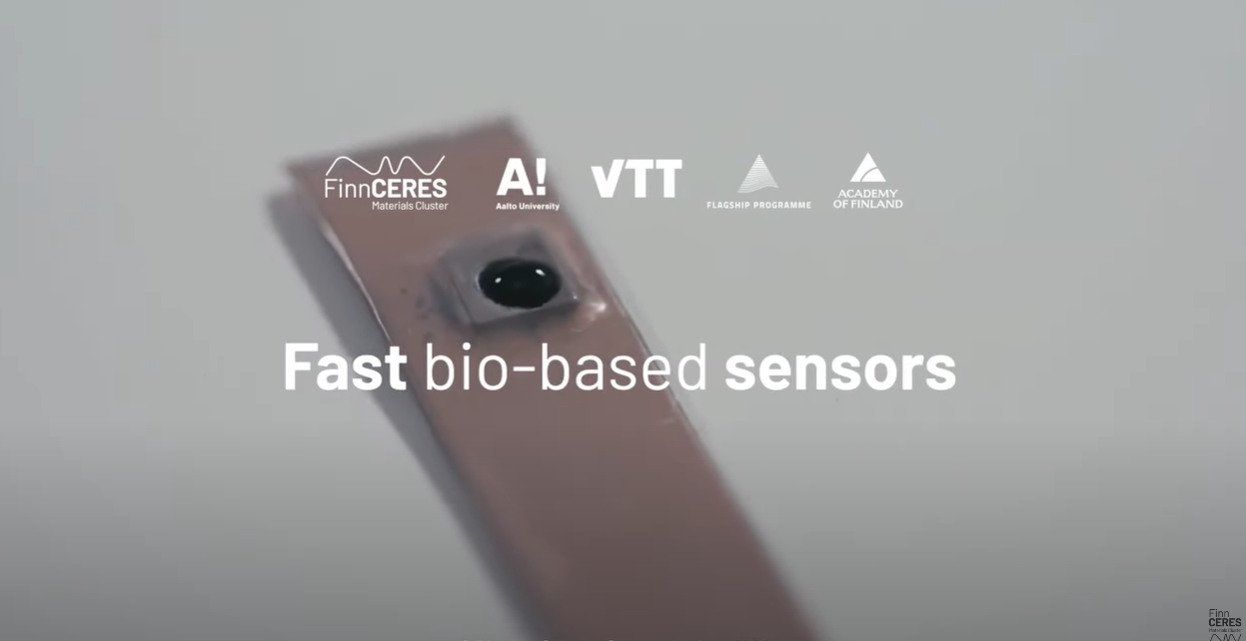 Video - Published 31.8.2023
In an ambitious FinnCERES project, a multidisciplinary team of scientists from VTT and Aalto University is developing fast, highly sensitive, and selective small molecule sensors that can detect drugs with incredible precision.
The novelty in this technology is the combination of carbon nanoparticles with bio-based nanocellulose. The nanocellulose helps to disperse the carbon nanotubes which in turn boosts small molecule detection. This innovative approach enables the detection of toxic drug molecules in ultra-low quantities, potentially saving lives by providing timely intervention.
While the combination of these materials not only offer exceptional sensitivity it also offers high selectivity, addressing a significant challenge in the field.
While existing methods struggle to detect drugs at extremely low concentrations fast, carbon nanotubes and nanocellulose sensors have achieved fast detection in the nanomolar range.
Beyond medical use, the potential of this technology extends to areas like gas sensing and wastewater treatment. It could lead to a solution where antibiotic residues can be detected in wastewater, enriched, and degraded before they reach our oceans.
More information about biomacromolecules can be found in the academic article Protein Adsorption and Its Effects on Electroanalytical Performance of Nanocellulose/Carbon Nanotube Composite Electrodes .
---
---
Agenda2030
The Research supports the following UN sustainable development goals: 
SDG 3: Good Health and Well-being: The research focuses on developing highly sensitive and selective sensors to detect toxic drug molecules with precision. This can contribute to timely intervention and potentially saving lives by improving healthcare and ensuring people's well-being.
SDG 6: Clean Water and Sanitation: The technology's potential application in wastewater treatment aligns with SDG 6. Detecting antibiotic residues in wastewater and degrading them before they reach oceans can help in achieving clean water goals and protecting aquatic ecosystems.
SDG 9: Industry, Innovation, and Infrastructure: The innovative approach of combining carbon nanoparticles with nanocellulose showcases advancements in materials science and technology. This aligns with the goal of promoting sustainable industrialization and fostering innovation.
SDG 14: Life Below Water: The potential application of the technology to detect and degrade antibiotic residues in wastewater before they reach oceans contributes to the protection of marine life and ecosystems, supporting the objectives of SDG 14.
SDG 17: Partnerships for the Goals: The research project involves collaboration between scientists from VTT and Aalto University. Such partnerships and multidisciplinary approaches are essential for achieving various SDGs.
---