Neste MY Renewable Diesel reduces greenhouse gas emissions by up to 90 percent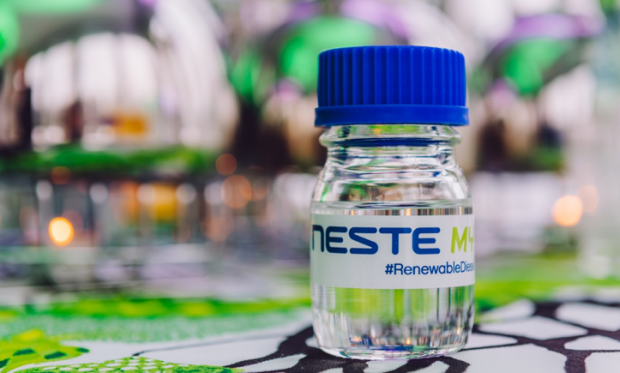 Case - Published 17.2.2017
Neste offers environmentally conscious consumers and corporate customers an opportunity to start using a fully renewable fuel. In December, the company launched Neste MY Renewable Diesel, manufactured 100 percent from waste and residue, on the Finnish market. It enables up to 90 percent lower greenhouse gas emissions throughout the life cycle of the fuel, compared to conventional fossil diesel. It also significantly reduces local emissions. 
It is estimated that carbon dioxide emissions account for 80 percent of global warming. Three quarters of these emissions come from the use of fossil fuels. In Finland, road traffic causes one sixth of all emissions that accelerate climate change. Private cars account for approximately half and heavy vehicles roughly one third of all traffic emissions in Finland.
Low-carbon solutions for the future
Neste is the world's largest producer of renewable diesel refined from waste and residues. Currently, waste and residue make up nearly 80 percent of the renewable raw materials used by the company. Neste is able to utilize more than ten renewable raw materials, and it is actively engaged in research and development in order to expand its raw material base, to identify new increasingly low-grade raw materials and to enable their use.
Neste MY Renewable Diesel is based on the NEXBTL technology that is developed by Neste in Finland and enables the use of almost any vegetable oil or waste fat in diesel manufacturing. This technology is utilized at Neste's Porvoo, Rotterdam and Singapore refineries that annually produce a total of three billion liters of renewable diesel. In 2015, Neste's global production volume of renewable diesel equaled 6.4 million tonnes of lower greenhouse gas emissions from traffic, which corresponds to 90 percent of the greenhouse gas emissions of all the private cars in Finland.
Neste MY Renewable Diesel can be used in all diesel cars
Neste MY Renewable Diesel is a hydro-treated vegetable oil, which can be used in high concentrations or as such in all diesel engines. Its use requires no modifications in vehicles and it is fully compatible with current diesel grades. This means that the product can be added to the fuel tank in any mixing ratio.
In terms of performance and properties, Neste MY Renewable Diesel is on par with the best fossil diesels available on the market and it can be used in all diesel cars. Its excellent cold properties, high cetane number and purer combustion, which extends the life of the engine, guarantee that the engine runs perfectly and effectively. The use of Neste MY Renewable Diesel does not increase the need for servicing and it has an excellent shelf life. Furthermore, the produce does not require any modifications from fuel distributors.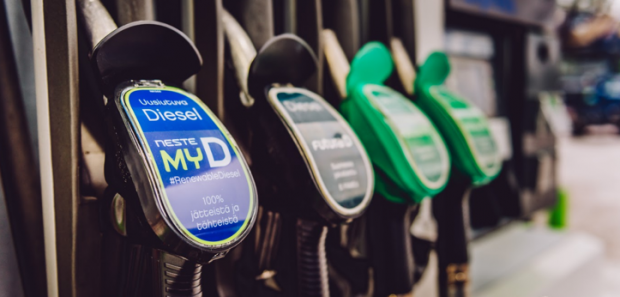 MY Renewable Diesel has no color, odor, sulfur or aromatics. Sulfur contained by conventional fuels increases atmospheric acidification, irritates the respiratory tract and corrodes unprotected metals. Aromatics are classified as being hazardous to health. Neste MY Renewable Diesel has lower particulate and nitrogen oxide emissions than conventional fuels.
Sustainable choices for the needs of customers
In the US, Neste MY Renewable Diesel is already widely used, for example, in the environmentally conscious California, where it helps to reduce traffic-induced greenhouse gas emissions. These customers include San Diego, San Francisco, Oakland, Walnut Creek, Carlsbad and Sacramento County.
Of major corporations, Google in the US is strongly committed to supporting climate change mitigation. The company reduces its carbon footprint, for example, by arranging shared transportation to work and back for its employees. In 2015, Google started to use Neste renewable diesel on its buses.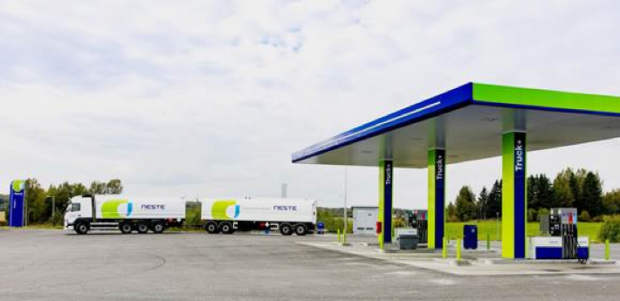 Transportation and traffic companies that use heavy vehicles have for long hoped for a fully renewable fuel. UPS, the world's largest courier service company, which operates in more than 200 countries, has used Neste renewable diesel in its transportation services in the US since 2015. DB Schenker and Lassila & Tikanoja started to use Neste MY Renewable Diesel in Finland immediately after it was launched, in order to reduce their emissions and carbon footprint.
Currently, Neste MY Renewable Diesel is available in Finland at selected Neste stations in the Helsinki, Turku and Tampere regions and at selected Neste Truck stations.
Neste MY Renewable Diesel is Neste's response to the need to reduce traffic-related emissions. Climate change mitigation starts now. The choice is yours.
Read more:


MY Renewable Diesel campaign site (in Finnish)
What is the difference between renewable diesel and traditional biodiesel – if any?
Further information:
Kaisa Hietala, EVP, Renewable Products, Neste
Email: CORPCOMViestinta@neste.com
Other Neste articles in Bioeconomy.fi:
Neste and IKEA announced partnership to deliver renewable bio-based plastics (Sept 14, 2016)
Neste Oil produces renewable fuel with innovative technology (Feb 9, 2015)
Published on February 17, 2017
---